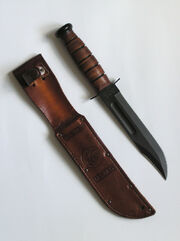 The United States Marines adopted the KA-BAR combat knife during World War II, when their previous Mark 1917/1918 models were failing. The KA-BAR design was altered slightly from the original, to make it more combat-friendly. The blade, guard and pommel were finished with a matte black coating, as opposed to the polished steel of the original. Additionally, a fuller (the ovule-shaped indentation) was removed, as to improve stiffness and decrease weight.
The standard issue today has not differed from that original fighting knife of WWII, and is still issued to Marines on the battlefield.
A few varieties are available, such as a partially serrated blade (as opposed to a straight-edge), or a Kraton G handle (a non-slip rubberized plastic).
External links
Edit
Ad blocker interference detected!
Wikia is a free-to-use site that makes money from advertising. We have a modified experience for viewers using ad blockers

Wikia is not accessible if you've made further modifications. Remove the custom ad blocker rule(s) and the page will load as expected.