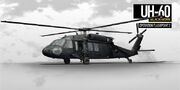 UH-60 BlackHawk
Edit
The UH-60 Black Hawk is a four-bladed, twin-engine, medium-lift utility helicopter manufactured by Sikorsky Aircraft. UH-60 is one of the U.S. Army helicopters that will be featured in the game Operation Flashpoint: Dragon Rising. There are over 25 different versions of the BlackHawk helicopter. Codemasters hasn't confirmed any other versions of the BlackHawk helicopter at this particular stage.
The UH-60 BlackHawk helicopter can carry up to 2 crew members (pilot and co-pilot) and can carry up to 14 squad members. The amount of squad members that can enter the UH-60 BlackHawk helicopter hasn't been confirmed by Codemasters.
The UH-60 BlackHawk can carry a lot of different weapons:
2× 7.62 mm (0.30 in) M240H machine guns or
2× 7.62 mm (0.30 in) M134 minigunor
2× .50 in (12.7 mm) GAU-19 gatling guns
Can be equipped with VOLCANO minefield dispersal system.See UH-60 Armament Subsystems for more information.
ESSS stub wings can be equipped with
70 mm (2.75 in)) Hydra 70 rockets
AGM-114 Hellfire laser guided missiles
7.62 mm (0.30 in), 20 mm (0.787 in), or 30 mm (1.18 in) M230 gunpods.
Please Note: On the screenshots released by Codemasters you can't view any weapons at all. The weapons stated above are used in real combat situations by the UH-60 BlackHawk. We can assume that Codemasters will implement several of the above weapons on the helicopter.